Press News
FOR CURRENT NEWS FROM THE JOHNS HOPKINS UNIVERSITY PRESS, read terrific posts by JHU Press authors, along with the latest news about our books, journals, and special events, on the JHU Press Blog.
See below for the Press News Archives
Free Podcasts by Dr. Peter Rabins Introduce The 36-Hour Day
The JHU Press has posted a series of free podcasts selected from the audio edition of The 36-Hour Day: A Family Guide to Caring for People Who Have Alzheimer Disease, Related Dementias, and Memory Loss, JHUP's best-selling book by Dr. Peter Rabins.  Long hailed as "the bible" for families caring for loved ones with Alzheimer Disease, the book appeared in its fifth edition in 2011 and as an audio book in 2013.
The series of five free podcasts provides an engaging introduction to The 36-Hour Day and offers a useful overview of the medical understanding of Alzheimer Disease and best practices for caregivers.  The complete book is available on 11 CDs or in a print edition, and a download of the audio edition from Audible.com.
Listen to The 36-Hour Day free podcasts here.
2/17/2014
Film Noir and Jazz in featured program with Mark Osteen
Mark Osteen, JHUP author of Nightmare Alley: Film Noir and the American Dream, is also the saxophonist and vocalist for the Cold Spring Jazz Quartet. On January 24, he hosts an engaging event at Germano's Restaurant in Baltimore's Little Italy neighborhood that combines considerable talents as he introduces and plays music from some of the genre's most memorable films. Featuring live performance along with film clips and commentary, "Night Songs" is a dazzling and unique multi-media event that is sure to delight both jazz aficionados and classic movie fans. Copies of Nightmare Alley will be on sale ( at the "merch" table, along with CSJQ CD's) and Mark will be happy to sign books. Read Mark's interesting post on jazz and film noir on the JHU Press Blog.

Admission: $10 per person. Doors open at 6:00 p.m. for pre-show dining. Performance begins at 7:30 p.m. Reservations strongly suggested. Call Germano's to purchase tickets and make a reservation at 410-752-4515 or visit http://www.germanostrattoria.com for more information. For more about CSJQ, check their website: http://www.coldspringjazz.com.
1/15/2014
Holiday Books Signings and Special Events Brighten the December Calendar
JHU Press authors will be contributing mightily to the holiday spirit in December with a grueling (but jolly!) schedule of book signings and special programs.  Especially in the Baltimore area, where JHUP's regional books have long been popular holiday gifts, authors such as Mike Olesker, Bryan MacKay, Ted Patterson, and Dean Smith will be meeting, greeting, schmoozing, and signing throughout the month.  See the Press Calendar for a full list of December highlights. Holiday list-makers, take note: for the shopping list, please add JHU Press books and journals for your nearest and dearest; for the to-do list, remember to spread the word about our December activities!  Happy holidays!
12/6/2013
Boston College Symposium Launches The Story Within, November 22
Boston College hosts a day-long interdisciplinary symposium to celebrate the publication of The Story Within, a new book from JHU Press with contributions that share powerful experiences of living with genetic disorders.
The event takes place on November 22 and features roundtable discussions, a writing workshop, and a keynote, all followed by a reception and dinner. View the full schedule and register here.
Edited by Amy Boesky, The Story Within includes contributions by Misha Angrist, Amy Boesky, Kelly Cupo, Michael Downing, Clare Dunsford, Mara Faulkner, Christine Kehl O'Hagan, Charlie Pierce, Kate Preskenis, Emily Rapp, Jennifer Rosner, Joanna Rudnick, Anabel Stenzel (deceased), Isabel Stenzel Byrnes, Laurie Strongin, Patrick Tracey, and Alice Wexler.
Their stories illustrate the complexities involved in making decisions about genetic diseases: whether to be tested, who to tell, whether to have children, and whether and how to treat children medically, if treatment is available. More broadly, the writers consider how genetic information shapes the ways we see ourselves, the world, and our actions within it.
11/17/2013
Johns Hopkins Celebrates University Press Week, November 10 to 16
The Johns Hopkins University Press will join friends and colleagues throughout the scholarly publishing community in celebrating University Press Week from November 10 to 16, 2013. Several events in the Baltimore area offer opportunities to meet JHU Press authors and learn more about the good work of university presses—including America's oldest (our press at Johns Hopkins was established in 1878).
Established by President Jimmy Carter in 1978, University Press Week highlights the extraordinary work of university presses and their many contributions to culture, the academy, and an informed society.  The breadth of university press activities and achievements is certainly worth celebrating; consider these facts, gathered by the Association of American University Presses (AAUP):
AAUP member presses produce more than 12,000 works per year, in both print and digital form. Many are include in JHUP's Project MUSE, through the UPCC collection.
The AAUP membership alone comprises 133 scholarly presses, found in places ranging from Abilene to Toronto, from Kalamazoo to Hong Kong. While almost every major research university has a scholarly press, so too do many smaller institutions, and the collective range of topics covered is fascinating: everything from Christian thought to the geophysics of fracking, from forensic psychiatry to pre-Columbian history, and from poetry to the economics of food.
Following the September 11th attacks, AAUP established its "Books for Understanding" program in recognition that scholarly presses publish knowledge that often cannot be found anywhere else. Whether the topic is North Korea or water rights in the Southwest, a university press book has the answers, and the questions, you are looking for.
AAUP is dedicated to the support of creative and effective scholarly communications through the cooperative programs and information resources provided to its member publishers. University Press Week offers much to celebrate and much to follow.  For more information, please visit www.universitypressweek.org.
10/31/2013
JHU Press authors, editors, and staff launch a busy fall calendar in September with events from coast to coast, along with plenty of activities in Baltimore and the Chesapeake region. Of particular note is the start this month of the Odyssey program's "Mini-Med School" (Odyssey is JHU's acclaimed non-credit continuing studies program), which features talks by the authors of seven of JHUP's well-regarded health books for general readers. September ends with a bang when the Press again partners with JHU's Peabody Library for the latest edition of the Baltimore Book Festival, which will be held from September 27 to 29. See the full schedule or fall on the Press Calendar-- and please help spread the word about these JHUP activities!
A few highlights from the September calendar:
7 September 2013, 7:00 p.m.
Book Talk & Signing – Michael Wolfe
Cut These Words into My Stone
Book Passage
Corte Madera, CA
Cut These Words Into My Stone (a collection that Richard Wilbur calls "simply stunning") offers evidence that ancient Greek life was not only celebrated in great heroic epics, but was also commemorated in hundreds of artfully composed verse epitaphs.Hear Michael read from and discuss his book at Book Passage in Corte Madera. Admission: Free; visit Book Passage online for more information.


12 September 2013, 6:00 p.m.
Reception, Book Sale, and Talk –
Dinah Miller, M.D., Annette Hanson, M.D., and Steven Roy Daviss, M.D.
Shrink Rap: Everything you've always wanted to know about psychiatry. . .
JHU's Oydssey Program / Mini-Med School
Baltimore, MD
The Press and the JHU's Odyssey program co-host a reception, book sale, and program with the authors of Shrink Rap to launch Odyssey's fall season. Admission: $18, or $98 for 8 sessions; call 410-516-8516; or register online.
27-29 September 2013
Baltimore Book Festival
Baltimore, MD
http://www.baltimorebookfestival.com/
Visit the JHU Press book sale and enjoy a variety of book talks in the beautiful Peabody Library in historic Mt. Vernon Place.
8/30/2013
Colm Tóibín's warm appreciation of Anthony Hecht's letters, London Review of Books
The acclaimed novelist, poet, and critic Colm Tóibín writes appreciatively in the August 8 issue of The London Review of Books about The Selected Letters of Anthony Hecht, a collection edited by Jonathan Post and published by the JHU Press in 2012.
The article, called "Places Never Explained," weaves together observations about luminaries including Elizabeth Bishop, Robert Lowell, Randall Jarrell, Marianne Moore, and others. Tóibín also finds insights into Hecht's own life and career, including the defining years that followed World War II.
"Once the war was over," Tóibín observes, "instead of longing for freedom, as others did, or for his mother, or his girlfriend, or the Lord God, Hecht thirsted for the New Criticism, and once he drank from it, he couldn't get enough. Of his teacher John Crowe Ransom, he told [J.D.] McClatchy:
I can no longer remember whether I read or heard him declare that a young man in the toils and thralls of love is particularly unfit to write a love poem, and that he must distance himself from his ecstasy before he can command enough self-possession and artistic disinterestedness to be able to write about it. But this made enormously good sense to me … it excused me from the task of setting down raw and unconsidered emotion; and it suggested a strategy by which to proceed.
Irony, distance, impersonality, decorum, the well-made poem, the ornate phrase, became Hecht's strategy for handling what had happened to him. Just as cold water is a cure for lust, when Hecht thought about 'what left me almost wordless with confused feelings', he could reach for Seven Types of Ambiguity, 'Tradition and the Individual Talent' or 'The Well Wrought Urn'."
Read the full article in The London Review of Books.
8/5/2013

Georg Luck Remembered in Current Issue of AJP
Georg Luck, the esteemed author, editor, and professor of classics at Johns Hopkins, is remembered in a warm and thoughtful article in the current issue of the American Journal of Philology by his friend and colleague, Richard Macksey. Professor Luck edited AJP for many years, and he is the author of one of the Press's best-selling books, Arcana Mundi: Magic and the Occult in the Greek and Roman Worlds: A Collection of Ancient Texts.
"The decade of Georg Luck's first term of editorship (1972–1981)," writes Professor Macksey, "was one that saw major changes in the profession, both in the classroom and in the vectors of research. Some of these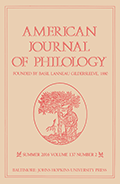 changes can, grosso modo, be read in the titles of the articles published in the journal as well as in the books reviewed and books received. How closely these internal changes reflected the profession at large is certainly a matter for discussion, but what cannot be denied is the firmness with which Georg Luck conceived his role as editor. He modestly saw himself as the custodian of a tradition begun by the journal's legendary first editor [Basil Lanneau Gildersleeve] rather than as an innovator. On the one hand he embraced Gildersleeve's capacious notion of 'the whole cycle of Philological study' (APA meeting, July 1878), but early and late he also insisted with the founder on the priority of a rigorous engagement with text and the careful attention to significant details, goals that he aimed at in his own work. "
Read Professor Macksey's entire article in AJP here.
7/10/2013

JHUP Authors Explains Amish Romance Novels in the Wall Street Journal
Valerie Weaver-Zerceher's new book from JHU Press, Thrill of the Chaste: The Allure of Amish Romance Novels, continues to attract interest and enthusiasm from scholarly as well as general interest media. A recent invitation to Valerie from the Wall Street Journal to contribute an article about her research has brought a new round of much-deserved attention. Here is a excerpt from the article:
"In 2003, one new romance novel with an Amish theme was published. This year at least 86 are being released. Five of the top 10 best sellers on a recent list of Christian fiction were Amish titles, and the novels regularly hit mainstream best-seller lists. The top three authors of Amish romance novels—Beverly Lewis, Cindy Woodsmall and Wanda Brunstetter—have sold among them more than 24 million books.
Dubbed "bonnet rippers" by journalists who have suggested that the books are a kind of "Fifty Shades of Grey" for church ladies, Amish romance novels are written and read mostly, but not exclusively, by evangelical Christian women. "Getting Dirty in Dutch Country" is how a headline in Bloomberg Businessweek described the genre.
But evangelical erotica this is not. The stories feature suitors whose suspenders stay put. "The longer he stood so close to her, the stronger the need to kiss her lips became," writes Ms. Woodsmall of her hero's thoughts in "When the Heart Cries." "But he was afraid she might not appreciate that move."
Readers of Amish fiction are looking not for racy stories, but for romances in which the trinity of modesty, chastity and fidelity reign. While the books often feature a female protagonist that falls in love with a man outside of her community, the relationship always remains sweetly romantic."
Read Valerie's entire article at onlinewsj.com.
6/13/2013

Book talks, author interviews, and conferences coming in June
June may be the start of vacation season, but JHU Press authors, editors, and staff are hard at work meeting the public, engaging readers, and spreading the word about our latest publications.  From Baltimore's Enoch Pratt Free Library, to NPR's Diane Rehm Show, to the lively online discussion hosted by Firedoglake Book Salon, Press authors and staff are launching the summer season with energy and style.
Highlights of the month include a talk by Mark Osteen (Nightmare Alley: Film Noir and the American Dream) at the Pratt Library on June 10; an interview with Scott Haltzman (The Secrets of Surviving Infidelity) on the Diane Rehm Show, also on June 10; and the annual meeting of the Association of American University Presses from June 20 to 22. A large delegation from JHU Press will attend the AAUP's annual meeting, and our staff members will speak on topics ranging from meta data and social media to book design and branding strategies.
For links with more information about our June events and activities, visit the JHU Press calendar.
5/30/2013



Clandestine Marriage Wins BSLS Book Prize
The British Society for Literature and Science announced at their annual conference in Cardiff in April that the winner of the prestigious BSLS Book Prize for 2012 is Theresa M. Kelley, author of  Clandestine Marriage: Botany and Romantic Culture. Published by JHU Press in November 2012, the book was acquired by JHUP editor Matt McAdam, designed by Martha Sewall, and shepherded through the publication process by staff members Debbie Bors, Linda West, Melissa Solarz, and Robin Noonan. Author Theresa Kelley is the Marjorie and Lorin Tiefenthaler Professor of English at the University of Wisconsin, Madison.
BSLS made the following announcement on their website:
"Congratulations to Professor Kelley on taking thisaccolade, in a year with a very strong shortlist. Her book is amajor contribution to the understanding of Romanticism and nature, synthesizing a wide range of literary, scientific and philosophical writing on botany, and blending impressive originalreadings of writers such as John Clare,Mary Wollstonecraftand Percy Shelley withintricate considerations of plantsfrom the perspective ofmaterial culture and the circulation of objects, poetic and visual tropes, andEuropean philosophical writing during the Romantic era."  
A post by the author on the JHU Press Blog, describing some of the challenges of addressing Romantic-era botany through literature and science, is available here.
4/19/2013

Project MUSE Partners with HighWire
The Johns Hopkins University Press has reached an agreement with Stanford University's HighWire Press to transition to the HighWire Open Platform as the new digital hosting and delivery platform for Project MUSE.
Over the past year, JHUP and its digital publishing unit Project MUSE have conducted an extensive search for a technology partner to assist in expanding the capacity of Project MUSE to support itscurrent content offering and allow MUSE to pursue opportunities in developing new products, business models and service offerings for its growing community of more than 200 publishers and 2700 libraries.
"HighWire brings a wealth of experience in hosting content for publishers and MUSE will leverage that experience in developing a similar hosting model for the humanities and social sciences," said Dean Smith, Director of Project MUSE. "Our vision is to deliver the definitive state-of-the art research environment in servicing our communities of publishers, libraries, and researchers."
"HighWire is committed to the widespread dissemination of scholarly research and to the latest advancements in information technology. They have developed a sophisticated platform and protocol for constant improvement that has served the needs of academic publishers large and small," said Kathleen Keane, Director of JHUP. "The Johns Hopkins University Press shares the objective of making scholarly research content available and usable."
HighWire's history tracks very closely with that of Project MUSE, with similar missions and both having launched in 1995. Several of HighWire's publishing partners (Duke University Press, The Oxford University Press, and the University of Wisconsin Press) also have content on the MUSE platform. "We are proud to welcome such a prestigious leader in the humanities and social sciences to the  HighWire community," said Tom Rump, Managing Director of HighWire. "We are excited to provide our innovative hosting platform to Project MUSE to ensure the highest levels of content integration, discoverability, and end-user engagement.  Given the deep understanding of their customers' needs and their vision for the future of ebooks and publishing, MUSE will be an inspired digital partner." 
The successful expansion of the Project MUSE publishing program is highly dependent on an advanced delivery infrastructure that combines rich functionality, customizability and a collaborative relationship with an innovative vendor of proven track record such as HighWire. This dynamic relationship will enable Project MUSE to create new products, incorporate new content types such as online references, foster personalization and collaboration, and continue to provide a sustainable model for libraries, publishers and researchers.
About JHUP/Project MUSE:
A division of the JHU Press, Project MUSE is a leading provider of digital humanities and social science content for the scholarly community.  Since 1995 the MUSE journal collections have supported a wide array of research needs at academic, public, and school libraries worldwide. MUSE is a trusted source of complete, full-text versions of 580 scholarly journals and more than 20,000 books from the University Press Content Consortium (UPCC). Over 200 of the world's leading university presses and scholarly societies currently contribute content to MUSE.
About HighWire Press:
At the forefront of strategic scholarly publishing, HighWire Press provides the latest in digital content development and hosting solutions to the scholarly community through its ground-breaking HighWire Open Platform. A division of the Stanford University Libraries, HighWire partners with influential societies, university presses, and other independent publishers, sharing ideas and innovations in publishing, and producing definitive online versions of high-impact, peer-reviewed journals, books, reference works, and other scholarly content. Since its inception in 1995, HighWire has embodied a commitment to helping publishers disseminate their content to the widest possible audience, facilitating the research communication process to meet the ever-changing needs of today's online and mobile readers. 
4/3/2013


Michael Burlingame discusses Abraham Lincoln: A Life on Clear Channel


Clear Channel's Armstrong and Getty Show recently interviewed JHU Press author Michael Burlingame on his acclaimed Abraham Lincoln: A Life.  This definitive biography, which William Safire called "a magisterial enterprise," has just been published in a two-volume paperback edition. 
First published in hardcover in 2008, Burlingame's work has been widely reviewed and praised.  Historian Doris Kearns Goodwin wrote, "Lincoln scholars have waited anxiously for this book for decades. Its triumphant publication proves it was well worth the wait. Few scholars have written with greater insight about the psychology of Lincoln. No one in recent history has uncovered more fresh sources than Michael Burlingame. This profound and masterful portrait will be read and studied for years to come."
Listen to the Clear Channel podcast here. Or visit Michael Burlingame's web page here.
3/29/2013


Daniel W. Webster discusses Reducing Gun Violence in America
C-SPAN aired a live broadcast of Daniel Webster's talk at the National Press Club on March 15 about the JHU Press book, Reducing Gun Violence in America. Webster is the book's co-editor and the director of the Johns Hopkins Center for Gun Policy and Research at JHU's Bloomberg School of Public Health.  The book is the result of a summit hosted by the Center in January which brought together experts on gun policy and violence to summarize relevant research and its implications for policy makers and concerned citizens; it was published by the JHU Press ten days after the summit. Watch C-SPAN's recording of the talk here.
Earlier this month, WRNR radio (103.1 FM  in Annapolis, Maryland) broadcast an interview with Webster hosted by Alex Cortright.  They discussed the growing consensus that the staggering toll of gun violence in the U.S. is an urgent public health issue. Listen to the WRNR interview here.
3/18/2013


Author Interview: Steven E. Harris discusses Communism on Tomorrow Street
The American edition of the Voice of Russia radio network interviewed University of Mary Washington's  Steven E. Harris about his new book, Communism on Tomorrow Street: Mass Housing and Everyday Life After Stalin. Published recently by the Woodrow Wilson Center Press, the book looks at the relationship between communism under Khrushchev and housing in the Soviet Union.
VOR's Culture Report host Rob Sachs spoke with Harris about how he attempts to answer fundamental questions about the way Soviet citizens felt about the role of government in their everyday lives.

Listen to the interview on the Voice of Russia website.
3/1/2013
President Obama, Former Secretary Clinton Are Among the Admirers of George Marshall's Legacy of Turning "Sworn enemies into the surest of friends"
In his second inaugural address on January 21, 2013, President Obama reflected on future foreign policy challenges by evoking the sometimes neglected legacy of "those who won the peace, not just the war." He praised strategies that had turned "sworn enemies into the surest of friends." The President was surely thinking of the historic achievements of George Catlett Marshall, who served as secretary of state from 1947 to 1949 and devised what became known as the Marshall Plan, building a variety of strategically vital relationships in post-war Europe.
The timing of the president's attention could not be better for the George C. Marshall Foundation in Lexington, Virginia, which has just released of volume six of The Papers of George Catlett Marshall, now available from the Johns Hopkins University Press.
Marshall has long been a source of inspiration for U.S. secretaries of state and other high ranking civilian and military leaders, including former Secretary Hilary Rodham Clinton. Just before leaving office, Secretary Clinton received a copy of volume six in her office at the State Department from Marshall Foundation president Brian D. Shaw (at left, in the photograph) and Marshall Papers editor Mark A. Stoler.
"I think a lot about George Marshall," said Secretary Clinton in 2011 when receiving the Marshall Foundation Award in Washington. "I have an extraordinary sense of the character and integrity, the commitment to service that led him to perform so admirably on behalf of our country during some of the most challenging times that we have ever faced. Leading our nation in war as a general, in peace as Secretary of State, and later as Defense Secretary, he was, they say, the only man, according to President Truman, who could get along with Franklin Roosevelt, the Congress, Winston Churchill, the Navy, and the Joint Chiefs of Staff. And he did so while never avoiding the hard issues, while always sharing his best advice, speaking his mind."
This latest volume of the Marshall Papers, "The Whole World Hangs in the Balance," January 8, 1947 – September 30, 1949,  reveals why Marshall's tenure as secretary of state—which began at the start of the cold war—remains among the most eventful and inspiring in the history of the U.S. Department of State and American foreign policy.
Read more about volume six on the JHU Press website.
2/20/2013
JHU Press Publications Recognized for Excellence by AAP's PROSE Awards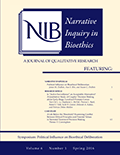 Four JHU Press publications were honored recently at the prestigious Association of American Publishers' Awards for Professional and Scholarly Excellence (The PROSE Awards). The PROSE Awards annually recognize the very best in professional and scholarly publishing by bringing attention to distinguished books, journals, and electronic content in over 40 categories.
At the awards ceremony in Washington, D.C., in February, three books and one journal published by JHU Press were recognized for excellence in two categories.
In the category of science, technology, and medicine, Narrative Inquiry in Bioethics:  A Journal of Qualitative Research garnered an honorable mention for best new journal. NIB is published three times a year and was acquired by journals publisher Bill Breichner.

In the category of architecture and urban planning, Joseph Manca's George Washington's Eye: Landscape, Architecture, and Design at Mount Vernon and Martin Treu's Signs, Streets, and Storefronts: A History of Architecture and Graphics along America's Commercial Corridors were recognized with honorable mention. Both books were acquired by Bob Brugger, senior editor for American history and history of technology
In the category of biological science, Theodore W. Pietsch 's Trees of Life: A Visual History of Evolution also earned an honorable mention. The book's acquiring editor was Vince Burke, executive editor for life sciences, mathematics, and physics.
"We are pleased and honored again this year to have the publishing community recognize the excellent work published by the JHU Press," remarked Press director Kathleen Keane, who attended the awards luncheon at the conference.
The awards are presented annually by the Professional andScholarlyPublishing (PSP) Division of the Association of American Publishers (AAP). The association is the national trade association of the U.S. bookpublishing industry. AAP's more than 300 members include most of the major commercial publishers in the United States, as well as smaller and nonprofit publishers, university presses, and scholarly societies.

A complete list of the 2012 award recipients is available on the AAP website at proseawards.com/current-winners.html.
2/11/2013
JHUP's New Book on Reducing Gun Violence Reaches Members of Congress as Legislative Debate Intensifies
Just ten days after a widely covered summit of international experts at the Johns Hopkins Bloomberg School of Public Health addressed the issue, the Johns Hopkins University Press has published Reducing Gun Violence in America: Informing Policy with Evidence and Analysis, a book that summarizes the research, analysis, and recommendations from the two-day meeting. The book is being distributed to members of Congress, other key policy makers, and the media in an effort toensure that the research and perspectives of public health, law enforcement, and policy experts are broadly available to inform the debate on proposed gun regulations and reforms.
The staggering toll of gun violence-which claims 31,000 U.S. lives each year-is an urgent public health issue that demands an effective evidence-based policy response. "The rate of firearms homicides in America is 20 times higher than it is in other economically advanced nations," writes New York Mayor Michael R. Bloomberg in the foreword. "We have got to change that."
The idea of publishing an "instant book" emerged early in the planning of the summit held on January 14 and 15, when the Johns Hopkins University convened more than 20 of the world's leading experts on gun violence and policy to summarize relevant research and recommend policies to reduce gun violence in the United States. Reducing Gun Violence in America presents the best available empirical research and legal analysis to help lawmakers, opinion leaders, and concerned citizens consider policy changes to reduce gun violence that takes an average of 80 lives every day.
Chapters were written and reviewed by the world's leading experts in gun policy and research, and include examinations of studies which demonstrate both the weaknesses of current federal gun policies and the efficacy of various federal and state laws designed to reduce firearm availability to high-risk groups. The book was edited by Daniel W. Webster, ScD, MPH, and Jon S. Vernick, JD, MPH, director and co-director of the Johns Hopkins Center for Gun Policy and Research.
The book presents reliable research and analysis behind the recommendations, which include:
Background checks: Establish a universal background check system for all persons purchasing a firearm.
High-risk individuals: Expand the set of conditions that disqualify an individual from legally purchasing a firearm to include other high risk groups such as violent misdemeanants, alcoholics, individuals who violate domestic violence restraining orders, and persons under age 21.
Mental health: Focus federal restrictions on gun purchases by persons with serious mental illness on the dangerousness of the individual.
Trafficking and dealer licensing: Increase penalties for illegal gun trafficking, appoint a permanent director to ATF, and provide the agency with the authority to develop a range of sanctions for gun dealers who violate gun sales or other laws.
Personalized guns: Provide financial incentives to states to mandate childproof or personalized guns.
Assault weapons and high-capacity magazines: Ban the future sale of assault weapons and the future sale and possession of large-capacity ammunition magazines.
Research funds: Provide adequate federal funds to the Centers for Disease Control and Prevention, the National Institutes of Health, and the National Institute of Justice for research into the causes and solutions of gun violence.
The book also includes an analysis of the constitutionality of many recommended policies and data from a 2013 national public opinion survey that reflect support among the majority of Americans—including gun owners—for stronger gun policies.
1/31/2013
JHU Summit on Reducing Gun Violence Leads to "Instant" Book from JHU Press
The Johns Hopkins University hosted more than 20 global experts on gun policy and violence at the Summit on Reducing Gun Violence in America at the Johns Hopkins Bloomberg School of Public Health on January 14 and 15, 2013. Their task was to summarize relevant research and its implications for policymakers and concerned citizens.
Within weeks of the Summit, the Johns Hopkins University Press will publish a book that compiles this timely research and commentary, Reducing Gun Violence in America: Informing Policy with Evidence and Analysis, edited by Daniel W. Webster and Jon S. Vernick. Collected for the first time in one volume, this reliable, empirical research and legal analysis will inform the policy debate by helping lawmakers and opinion leaders identify the policy changes that are most likely to reduce gun violence in the U.S. The book will be available in late January and can be purchased from booksellers worldwide or directly from the Press.
Guns kill more than 31,000 people each year in the U.S., which has a homicide rate seven times the average of other high-income countries. To address this urgent public health problem, the experts will analyze the latest research and present clear, comprehensive recommendations for gun policies that will reduce gun violence, will have broad public support, and will not violate constitutional rights. The Honorable Michael R. Bloomberg, Mayor of New York City and co-chair of the Mayors Against Illegal Guns, presented the opening remarks at the Summit and has written a Foreword for the book.

Read more about the Summit and the book on the JHU Press Blog.
1/10/2013
Holiday Book Sale on the JHU Press Blog
In the spirit of the season, with discounts sure to make Santa even more jolly, the JHU Press Blog is hosting a Holiday Book Sale with featured titles offered at 40% off list prices through the end of December.


Books include a gorgeous picture book about polar bears, a charming history of Annapolis, Michael Burlingame's highly praised biography of Lincoln, and the just released history of film noir, Nightmare Alley.
Check out the Holiday Sale at the JHU Press Blog.


12/14/2012

Charles Martin's Signs & Wonders Wins First CNY Book Award
Signs & Wonders, Charles Martin's collection of poetry published by the JHU Press in 2011, is the recipient of the the first CNY (Central New York) Book Awards for poetry. The awards are sponsored by the Downtown Writers Center of the YMCA of Greater Syracuse and will be given annually.
Winners of the first annual CNY Book Awards were announced on November 29 at a reception at the Chancellor's Residence at Syracuse University. Local authors in the categories of poetry, nonfiction and fiction were selected for several awards by independent judges.
Martin's collection has been widely praised and well received. "As Signs & Wonders demonstrates so triumphantly," wrote poet X. J. Kennedy, "you'd have a hard time to find better contemporary poems than Charles Martin's. I can only be grateful for 'Ovid to His Book,' 'Support,' 'Poem for the Millennium,' 'Near Jeffrey's Hook,' 'After 9/11,' 'Poison,' and many more. Martin does not merely write well-made, shapely poems; he charges them with energy. I'm placing my bet that they will last." Sign & Wonders was published in the literary series John Hopkins: Poetry and Fiction, edited by JHU's John T. Irwin.
11/30/2012
NPR's The Picture Show features Ron Coddington's African American Faces of the Civil War
National Public Radio's blog devoted to photographic images, The Picture Show, ran an appreciative feature on November 16 on Ron Coddington's latest JHUP book, African American Faces of the Civil War. Written by Claire O'Neill, it includes an interview with Coddington and numerous photographs from the book.
Like his first two volumes, Faces of the Civil War and Faces of the Confederacy, this latest book combines compelling archival images with biographical stories that reveal the human side of the war.
Through prodigious research, Coddington discovered these portraits—cartes de visite, ambrotypes, and tintypes—in museums, archives, and private collections. He pieced together each individual's life and fate based upon personal documents, military records, and pension files. These stories tell of ordinary men who became fighters, of the prejudice they faced, and of the challenges they endured.
" The story is what's important — and those details are incredibly rare," writes O'Neill. " So what makes Coddington's collection special are the biographical details that accompany the images. If you take the time to read their stories, the individuals spring to life — well after they've died."
Coddington will speak in Baltimore at the Enoch Pratt Free Library central branch on January 31 at 6:30 p.m.; in the Lunch With Books series at the Ohio County Public Library in Wheeling, West Virginia on February 12 at noon; and at the New York Public Library's the mid-Manhattan branch on February 21 at 6:30 p.m.
11/19/2012
JHUP Journals Marketing Team Wins National Honors
The JHU Press Journals Marketing Department has won five honors in the 2012 MarCom Awards. Administered by the Association of Marketing and Communication Professionals (AMCP), the MarCom Awards recognize outstanding creative achievement by marketing and communication professionals.
MarCom entries come from marketing and communication departments, advertising agencies, PR firms, design shops, production companies and freelancers. There were over 6,000 entries from throughout the United States, Canada and several other countries in the 2012 competition
The winning entries from JHUP came from a wide-range of the Marketing Department's activities. The five-member team serves more than 75 scholarly journals and affiliated societies. Led by Marketing Manager Lisa Klose, the department consists of Advertising and Exhibits Coordinator Ladzer Blumenfeld, Direct Mail and Renewals Coordinator Janet Gilbert, PR and Advertising Coordinator Brian Shea and Graphic Designer Keli Strickland.
"We're happy to see that the MarCom Awards have recognized the outstanding work done by the Journals Marketing Department," said JHU Press Journals Publisher Bill Breichner. "They deserve the honors for their creativity and commitment to our publishing partners."
The 2012 and 2013 Journals Catalog each received Platinum honors, the highest award given, in the Brochure/Catalog category.
The new "In Other Words" video series won Gold honors in the Web Video/Educational Series.
A 2012 brochure for the Association for the Study of Higher Education won an honorable mention in the Design (Print)/Brochure category while the re-designed German Studies Association website won a similar honor in the Website/Association category.            
MarCom Awards judges are industry professionals who look for companies and individuals whose talent exceeds a high standard of excellence and whose work serves as a benchmark for the industry. Winners were selected from over 200 categories in seven forms of media and communication efforts- marketing, publications, marketing/promotion, public service/pro bono, creativity and electronic/interactive.
11/12/2012
JHUP Celebrates University Press Week
The JHU Press will join friends and colleagues throughout the scholarly publishing community in celebrating University Press Week from November 11 to 17, 2012. The week will highlight the extraordinary work of university presses and their many contributions to culture, the academy, and an informed society.  The first such week was proclaimed in 1978 by President Jimmy Carter "in recognition of the impact, both here and abroad, of American university presses on culture and scholarship."
The breadth of university press activities and achievements is certainly worth celebrating.  Consider these facts, gathered by the Association of American University Presses (AAUP), which this year marks its 75th anniversary:
AAUP member presses produce more than 12,000 works per year, in both print and digital form.
The AAUP membership alone comprises 133 scholarly presses, found in places ranging from Abilene to Toronto, from Kalamazoo to Hong Kong. While almost every major research university has a scholarly press, so too do many smaller institutions, and the collective range of topics covered is fascinating: everything from Christian thought to the geophysics of fracking, from forensic psychiatry to pre-Columbian history, and from poetry to the economics of food.
University presses collaborate with each other, and with other institutions, in interesting and intrepid ways. Check out Project Euclid, a ground-breaking collaboration in mathematics; or the Archaeology of the Americas Digital Monograph Initiative, a joint project of six university presses; or explore the past (and present) through the Publishing the Long Civil Rights Movement project.
Following the September 11th attacks, AAUP established its "Books for Understanding" program in recognition that scholarly presses publish knowledge that often cannot be found anywhere else. Now featuring a list of 85 need-to-know topics—and growing apace—the books represented provide deeply researched information on issues and events of international import. Whether the topic is North Korea or water rights in the Southwest, a university press book has the answers, and the questions, you are looking for.
AAUP is dedicated to the support of creative and effective scholarly communications through the cooperative programs and information resources provided to its member publishers.
11/1/2012
Tapping into The Wire at the Pratt Central Branch
The Johns Hopkins University Press and the Enoch Pratt Free Library will co-host a reception and lecture to celebrate the publication of Tapping into The Wire: The Real Urban Crisis, by Peter Beilenson and Patrick McGuire. The event takes place on September 11, 2012, at the Enoch Pratt Free Library's Central Branch at 400 Cathedral Street (Baltimore, MD 21201).  An invitation-only reception at 6:00 p.m. will be followed by a public talk at 7:00 p.m. in the Wheeler Auditorium; the talk is free and open to the public.
The book uses the acclaimed television series as a road map for exploring connections between inner-city poverty and drug-related violence. Past Baltimore City health commissioner Peter Beilenson teams up with former Baltimore Sun reporter Patrick A. McGuire to deliver a compelling, highly readable examination of urban policy and public health issues affecting cities across the nation. Each chapter recounts scenes from episodes of the HBO series, placing the characters' challenges into the broader context of public policy.
Peter L. Beilenson, M.D., M.P.H., is Howard County, Maryland's, health officer. From 1992 to 2005 he served as Baltimore's health commissioner. Patrick A. McGuire is a journalist with more than twenty years of experience, fourteen of which were at the Baltimore Sun.
The Central Branch of the Enoch Pratt Free Library is located at 400 Cathedral Street in Baltimore, between Franklin and Mulberry.  Street parking is usually available near the Library, and a paid parking garage is located on Franklin Street, between Charles and Cathedral Streets.  For more information, contact Jack Holmes at 410-516-6928 or jmh@jhu.edu.
9/4/2012
Recent Awards for JHU Press Books
JHUP books have won a variety of important awards in recent months.  Congratulations to our authors, editors, and all involved in the success of these titles!
History: Andrew Scott Dolkart's The Row House Reborn is winner of the 2012 Antoinette Forrester Downing Award; Investing in Life, by Sharon Murphy, took the 2012 Hagley Prize in Business History; Annapolis, Cityon the Severn, by Jane McWilliams, won a 2012
Maryland Preservation Award.
History of Medicine: Prescribing by Numbers, by Jeremy A. Greene,took the 2012 Edward Kremers Award; Women Physicians and the Cultures of Medicine, by Ellen S. More et al., won 2012 ALHHS Best Print Publication honors.
Literature: Orrin C. Wang's Romantic Sobriety is the 2011 Jean-Pierre Barricelli Prize winner.
Design: The Washington Book Publishers awarded first place for illustrated text to The Secret Lives of Ants, by Jae Choe.
7/25/2012
Seven New Publishers to Contribute to UPCC Book Collections on Project MUSE
Five notable university presses and two respected scholarly publishers will make their scholarly books available in the UPCC Book Collections on Project MUSE, beginning in 2013. New and backlist titles from the University of Illinois Press, Louisiana State University Press, the University Press of Florida, the RIT Cary Graphic Arts Press, and Les Presses de l'Université du Quebec, along with scholarly books from the Liberty Fund and the African Books Collective, will be available on the MUSE platform, along with more than 16,000 titles from the nearly 70 publishers already participating.  
The addition of these distinguished publishers will expand the UPCC (University Press Content Consortium) Book Collections' offerings in American history, political science, area studies, literature, economics, performing arts, and philosophy, among many other core humanities and social science disciplines. More newly participating publishers are expected to be announced in coming months, with details on new 2013 UPCC Book Collections available by October.  
Over 100 institutions in more than ten countries have purchased UPCC books on MUSE for their user communities. Launched on January 1, 2012, the collections have generated more than a quarter million book unit sales for the participating not-for-profit scholarly publishers.
7/12/2012
New Logo for Project MUSE
In June, the staff of Project MUSE introduced their new logo to the public at the American Library Association Annual Conference and the Association of American University Presses Annual Meeting. The logo is one of the many exciting changes that 2012 has brought to Project MUSE, including a newly designed interface and the addition of 15,000 electronic books to MUSE's collection of more than 500 journal titles. Read more at the Project MUSE web site.
Project MUSE was rated "highly recommended" in the May 2012 issue of CHOICE: Current Reviews for Academic Librarians. Choice describes MUSE as having a "new, rich platform… broad and deep collection of scholarly monographs… handy grid of 17 research areas."
6/25/2012

Tall Ships and JHUP Books Mark the War of 1812 Bicentennial
With tall ships visiting Baltimore's Inner Harbor to launch the region's bicentennial festivities, the JHU Press is partnering with several groups to host a program featuring authors of JHUP books on the War of 1812 on June 13. The National Aquarium is the perfect setting and the Maryland Historical Society is the ideal partner for the program, which is co-hosted with the Baltimore chapter of the JHU Alumni Association. The event features a reception and book signing at 6:30 p.m. followed by a program with historians Don Hickey, editor of JHUP's 1812 series, Connie Clark, and other experts.
Admission is $10.00 for JHU Alumni, Friends of the Press, and MdHS and NAIB members. Register by calling JHU's Office of Alumni Relations at 800-548-5481, or register online at alumevents@jhu.edu. Please identify yourself as a Friend of the Press.
6/1/2012
With Melville Biography, JHU Press Entered the World of Maurice Sendak
The wild rumpus, university-press style, started in 1996, when the JHU Press prepared to publish the first volume of Hershel Parker's magisterial biography of Herman Melville. As an eminent Melville scholar and editor of the Northwestern-Newberry Writings of Herman Melville, Parker knew just about everyone in the close community of Melville experts, collectors, and devotees. Singular among them, perhaps, was the renowned illustrator and children's book author Maurice Sendak, who died on May 8. "There's a mystery there," Sendak once said of Melville's writing, "a clue, a nut, a bolt, and if I put it together, I find me."
At Parker's request, Sendak completed two portraits of Melville, both pen-and-ink drawings with watercolor wash, that appear in the JHU Press editions of Herman Melville: A Biography published in 1996 and 2002.  Sendak brought his life-long appreciation of the writer, along with characteristic depth and playfulness, to the illustrations which serve as both jacket art and frontispiece for the two volumes. For volume one, which covers 1819 to 1851, Sendak depicts the young Melville in handsome profile with ship's rigging in the background, holding a writer's quill and wearing a top hat decorated with whimsical yellow flower. The illustration for the second volume, which spans 1851 to 1891, shows an older, more somber Melville, entwined in ivy and the cares of later life.
JHU Press designer Glen Burris, who created the jackets and interior designs for both volumes, worked with Sendak as he prepared the illustrations and later got to meet him. "I visited him at his home in Ridgefield in 2002," comments Burris, "to return the illustration we used on the second volume. Sendak was a Melville fanatic and something of a curmudgeon. He had lots of opinions and could no doubt talk to Hershel Parker about Melville the way another scholar might. But he was also a very gracious host, and I wound up spending the afternoon with him. He showed me his illustrations for Brundibár, which had not yet been published, and his copy of the famous edition of Moby Dick with illustrations by Rockwell Kent. We talked about books and the work of illustrating. He was a wonderful guy."
The Melville biography would be a great critical success for the Press and enjoy strong sales. The volumes were lauded by the New York Times and called "an astonishing achievement" by the New Republic. Tony Kushner, in a spirit Sendak, or perhaps his character Max, would surely appreciate, praised the 928-page first volume as "a great, irresistible whale of a book."  Paperback editions, featuring Maurice Sendak's beautiful portraits of Melville, were published by the Press in 2005. 
5/9/2012
JHU's Alumni Weekend Includes Reading by Richard Burgin, Press Display, and Tour
JHU's 2012 Alumni Weekend from May 4 to 6 features a reading by award-winning JHU Press author Richard Burgin along with a Press display and sale and a new opportunity for JHU alumni to tour the Press.
Burgin reads from his 2011 collection of short stories, Shadow Traffic, on Friday, May 4, at 5:00 p.m. in JHU's Mudd Hall. The reading is sponsored by the JHU Writing Seminars and is free and open to the public. JHU Alumni Weekend guests are welcome. Burgin is founder and editor of the award-winning literary journal Boulevard, a professor of communication and English at Saint Louis University, and the author of several JHU Press books.
The JHU Press display and sale has become a tradition at Alumni Weekend and will be held again this year in the "welcome tent" behind Mason Hall on JHU's Homewo0d campus. It features a selection of books and journals from the JHU faculty along with titles of general interest, including several relating to Hopkins history. An opportunity for visiting alumni to tour of the Press offices on Saturday morning, offered for the first time this year, has been fully subscribed for several weeks. For more information, contact Jack Holmes at 410-516-6928 or jmh@jhu.edu.
4/30/2012
JHU Press Staff Shares Talents with Baltimore City Students
The Johns Hopkins University Press and the Village Learning Place, a Baltimore community center near the Press's offices in Charles Village, will celebrate the release of a special art and literary journal, The Village Review, with a reception on Tuesday, April 17th at 5 p.m. at the Village Learning Place.  Since the fall, seventh and eighth graders in the Village Learning Place's "Let's Invest in Neighborhood Kids" (LINK) after-school program have been hard at work collaborating with a group of 13 volunteers from Hopkins Press to create this first-ever professionally published LINK student journal. The JHU Press volunteers shared their time and talents teaching the students about everything from research methods to plot development to peer editing to advertising and social media.
"This has been a tremendous opportunity for all involved," says VLP Executive Director Liesje Gantert. "The Village Learning Place teachers and staff members have witnessed such creativity and growth in our students, and we're excited to share The Village Review with the community."
The reception will feature student contributors as well as speakers from the Village Learning Place and The Johns Hopkins University Press as well as an unveiling of The Village Review. Invited guests include several local dignitaries, school officials, and community members. The Village Learning Place is a nonprofit community-based library, learning center, and garden in Charles Village. To that end, we offer free cultural and educational programs and resources for all. Visit www.villagelearningplace.org for more information.
4/5/2012
New Journals and Books Enhance Project MUSE
Since Project MUSE launched its new integrated books and journals platform on January 1, nearly 14,000 book titles from 66 publishers have joined the collections of more than 500 journal titles. Collections on Project MUSE are available for institutions to purchase by subject area or imprint date. The MUSE Sales Department is pleased to report that more than 70 institutions world-wide have purchased one or more of the UPCC Book Collections. Users from the United States and ten other countries including Australia, Bangladesh, El Salvador, Norway, and Singapore, are now accessing books on MUSE.
Project MUSE is pleased to be adding 46 new titles to its journal collections in 2012. Of the titles scheduled for release in 2012, nearly half have already launched and can be accessed now in MUSE. A number of Medieval and Renaissance journals, including Mediaevalia by the SUNY Press, the Johns Hopkins University Press' Digital Philology, and Traditio by the Fordham University Press, will join Project MUSE's highly regarded collection. Among other subject areas that will be enhanced by multiple journal additions are Film, Theater, & Performing Arts, Asian Studies, and Religion. A complete list of all new 2012 journals can be found at muse.jhu.edu/about/new/upcoming.html.
With the addition of another batch of back issues in early 2012, the number of journals with complete runs in MUSE has grown to more than 100. A complete run means the coverage in MUSE starts with volume 1, issue/number 1 and continues through to the most recent issue. Recent additions to this list include Children's Literature Association Quarterly, Civil War History, Historically Speaking, Jewish Quarterly Review, Latin American Theatre Review, and Southern Cultures. There are an additional 23 journals currently scheduled to have back issues added to MUSE in the near future.
3/15/2012
James Franco To Discuss Hart Crane and The Broken Tower at Shriver Hall on March 9
The actor James Franco will attend a screening and discussion of his film, The Broken Tower, about the life and work of the poet Hart Crane, at Shriver Hall on JHU's Homewood campus on Friday, March 9, at 2:00 p.m.

The 90-minute film will be introduced by the actor and will be followed by a panel discussion featuring Franco; John Irwin, author of the recently published Hart Crane's Poetry; and Linda DeLibero, director of JHU's Program in Film and Media Studies. The event is free and open to the public.

The screening and discussion are sponsored by the JHU Writing Seminars, the Program in Film and Media Studies, and the JHU Press, which published Hart Crane's Poetry earlier this year. 
Shot in black and white, and completed in 2011, The Broken Tower is based on the biography of Crane by Paul Mariani. Franco wrote the screenplay while studying at New York University's Tisch School of the Arts and later decided to produce, direct, edit, and star in the film. It premiered last year at Boston College, where Mariani teaches, and was shown at the 2011 Los Angeles Film Festival. A theatrical release is planned for sometime in 2012.
The film is not rated and includes content that may not be suitable for younger viewers.
3/1/2012